I should not have been surprised, but I still marveled at just how little it took to get under the skin of President Donald Trump and his allies. By February 2019, I had been the executive editor of The Washington Post for six years. That month, the newspaper aired a one-minute Super Bowl ad, with a voice-over by Tom Hanks, championing the role of a free press, commemorating journalists killed and captured, and concluding with the Post's logo and the message "Democracy dies in darkness." The ad highlighted the strong and often courageous work done by journalists at the Post and elsewhere—including by Fox News's Bret Baier—because we were striving to signal that this wasn't just about us and wasn't a political statement.
"There's someone to gather the facts," Hanks said in the ad. "To bring you the story. No matter the cost. Because knowing empowers us. Knowing helps us decide. Knowing keeps us free."
Even that simple, foundational idea of democracy was a step too far for the Trump clan. The president's son Donald Trump Jr. couldn't contain himself. "You know how MSM journalists could avoid having to spend millions on a #superbowl commercial to gain some undeserved credibility?" he tweeted with typical two-bit belligerence. "How about report the news and not their leftist BS for a change."
Two years earlier—a month into Trump's presidency—the Post had affixed "Democracy dies in darkness" under its nameplate on the printed newspaper, as well as at the top of its website and on everything it produced. As the newspaper's owner, Jeff Bezos, envisioned it, this was not a slogan but a "mission statement." And it was not about Trump, although his allies took it to be. Producing a mission statement had been in the works for two years before Trump took office. That it emerged when it did is testimony to the tortuous, and torturous, process of coming up with something sufficiently memorable and meaningful that Bezos would bless.
Bezos, the founder and now executive chair of Amazon, had bought The Washington Post in 2013. In early 2015, he had expressed his wish for a phrase that might encapsulate the newspaper's purpose: a phrase that would convey an idea, not a product; fit nicely on a T-shirt; make a claim uniquely ours, given our heritage and our base in the nation's capital; and be both aspirational and disruptive. "Not a paper I want to subscribe to," as Bezos put it, but rather "an idea I want to belong to." The idea: We love this country, so we hold it accountable.
No small order, coming up with the right phrase. And Bezos was no distant observer. "On this topic," he told us, "I'd like to see all the sausage-making. Don't worry about whether it's a good use of my time." Bezos, so fixated on metrics in other contexts, now advised ditching them. "I just think we're going to have to use gut and intuition." And he insisted that the chosen words recognize our "historic mission," not a new one. "We don't have to be afraid of the democracy word," he said; it's "the thing that makes the Post unique."
Staff teams were assembled. Months of meetings were held. Frustrations deepened. Outside branding consultants were retained, to no avail. ("Typical," Bezos said.) Desperation led to a long list of options, venturing into the inane. The ideas totaled at least 1,000: "A bias for truth," "Know," "A right to know," "You have a right to know," "Unstoppable journalism," "The power is yours," "Power read," "Relentless pursuit of the truth," "The facts matter," "It's about America," "Spotlight on democracy," "Democracy matters," "A light on the nation," "Democracy lives in light," "Democracy takes work. We'll do our part," "The news democracy needs," "Toward a more perfect union" (rejected lest it summon thoughts of our own workforce union).
By September 2016, an impatient Bezos was forcing the issue. We had to settle on something. Nine Post executives and Bezos met in a private room at the Four Seasons in Georgetown to finally get over the finish line. Because of Bezos's tight schedule, we had only half an hour, starting at 7:45 a.m. A handful of options remained on the table: "A bright light for a free people" or, simply, "A bright light for free people"; "The story must be told" (recalling the inspiring words of the late photographer Michel du Cille); "To challenge and inform"; "For a world that demands to know"; "For people who demand to know." None of those passed muster.
In the end, we settled on "A free people demand to know" (subject to a grammar check by our copy desk, which gave its assent). Success was short-lived—mercifully, no doubt. Late that evening, Bezos dispatched an email in the "not what you're hoping for category," as he put it. He had run our consensus pick by his then-wife, MacKenzie Scott, a novelist and "my in-house wordsmith," who had pronounced the phrase clunky. "Frankenslogan" was the word she used.
By then, we needed Bezos to take unilateral action. Finally, he did. "Let's go with 'Democracy dies in darkness,' " he decreed. It had been on our list from the start, and was a phrase Bezos had used previously in speaking of the Post's mission; he himself had heard it from the Washington Post legend Bob Woodward. It was a twist on a phrase in a 2002 ruling by the federal-appellate-court judge Damon J. Keith, who wrote that "democracies die behind closed doors."
"Democracy dies in darkness" made its debut, without announcement, in mid-February 2017. And I've never seen a slogan—I mean, mission statement—get such a reaction. It even drew attention from People's Daily in China, which tweeted, " 'Democracy dies in darkness' @washingtonpost puts on new slogan, on the same day @realDonaldTrump calls media as the enemy of Americans." Merriam-Webster reported a sudden surge in searches for the word democracy. The Late Show host Stephen Colbert joked that some of the rejected phrases had included "No, you shut up" and "We took down Nixon—who wants next?" Twitter commentators remarked on the Post's "new goth vibe." The media critic Jack Shafer tweeted a handful of his own "rejected Washington Post mottos," among them "We're really full of ourselves" and "Democracy Gets Sunburned If It Doesn't Use Sunscreen."
Bezos couldn't have been more thrilled. The mission statement was getting noticed. "It's a good sign when you're the subject of satire," he said a couple of weeks later. The four words atop our journalism had certainly drawn attention to our mission. Much worse would have been a collective shrug. Like others at the Post, I had questioned the wisdom of branding all our work with death and darkness. All I could think of at that point, though, was the Serenity Prayer: "God grant me the serenity to accept the things I cannot change."
But the phrase stuck with readers, who saw it as perfect for the Trump era, even if that was not its intent.
We must have been an odd-looking group, sitting around the dining-room table in the egg-shaped Blue Room of the White House: Bezos, recognizable anywhere by his bald head, short stature, booming laugh, and radiant intensity; Fred Ryan, the Post's publisher, an alumnus of the Reagan administration who was a head taller than my own 5 feet 11 inches, with graying blond hair and a giant, glistening smile; the editorial-page editor, Fred Hiatt, a 36-year Post veteran and former foreign correspondent with an earnest, bookish look; and me, with a trimmed gray beard, woolly head of hair, and what was invariably described as a dour and taciturn demeanor.
Five months after his inauguration, President Trump had responded to a request from the publisher for a meeting, and had invited us to dinner. We were joined by the first lady, Melania Trump, and Trump's son-in-law and senior adviser, Jared Kushner. By coincidence, just as we were sitting down, at 7 p.m., the Post published a report that Special Counsel Robert Mueller was inquiring into Kushner's business dealings in Russia, part of Mueller's investigation into that country's interference in the 2016 election. The story followed another by the Post revealing that Kushner had met secretly with the Russian ambassador, Sergey Kislyak, and had proposed that a Russian diplomatic post be used to provide a secure communications line between Trump officials and the Kremlin. The Post had reported as well that Kushner met later with Sergey Gorkov, the head of a Russian-owned development bank.
Hope Hicks, a young Trump aide, handed Kushner her phone. Our news alert had just gone out, reaching millions of mobile devices, including hers. "Very Shakespearean," she whispered to Kushner. "Dining with your enemies." Hiatt, who had overheard, whispered back, "We're not your enemies."
As we dined on cheese soufflé, pan-roasted Dover sole, and chocolate-cream tart, Trump crowed about his election victory, mocked his rivals and even people in his own orbit, boasted of imagined accomplishments, calculated how he could win yet again in four years, and described The Washington Post as the worst of all media outlets, with The New York Times just behind us in his ranking in that moment.
Trump, his family, and his team had put the Post on their enemies list, and nothing was going to change anyone's mind. We had been neither servile nor sycophantic toward Trump, and we weren't going to be. Our job was to report aggressively on the president and to hold his administration, like all others, to account. In the mind of the president and those around him, that made us the opposition.
There was political benefit to Trump in going further: We were not just his enemy—we were the country's enemy. In his telling, we were traitors. Less than a month into his presidency, Trump had denounced the press as "the enemy of the American People" on Twitter. It was an ominous echo of the phrase "enemy of the people," invoked by Joseph Stalin, Mao Zedong, and Hitler's propagandist, Joseph Goebbels, and deployed for the purpose of repression and murder. Trump could not have cared less about the history of such incendiary language or how it might incite physical attacks on journalists.
Whenever I was asked about Trump's rhetoric, my own response was straightforward: "We are not at war with the administration. We are at work." But it was clear that Trump saw all of us at that table as his foes, most especially Bezos, because he owned the Post and, in Trump's mind, was pulling the strings—or could pull them if he wished.
At our dinner, Trump sought at times to be charming. It was a superficial charm, without warmth or authenticity. He did almost all the talking. We scarcely said a word, and I said the least, out of discomfort at being there and seeking to avoid any confrontation with him over our coverage. Anything I said could set him off.
He let loose on a long list of perceived enemies and slights: The chief executive of Macy's was a "coward" for pulling Trump products from store shelves in reaction to Trump's remarks portraying Mexican immigrants as rapists; he would have been picketed by only "20 Mexicans. Who cares?" Trump had better relations with foreign leaders than former President Barack Obama, who was lazy and never called them. Obama had left disasters around the world for him to solve. Obama had been hesitant to allow the military to kill people in Afghanistan. He, Trump, told the military to just do it; don't ask for permission. Mueller, Attorney General Jeff Sessions, fired FBI Director James Comey, and FBI Deputy Director Andrew McCabe were slammed for reasons that are now familiar.
Two themes stayed with me from that dinner. First, Trump would govern primarily to retain the support of his base. At the table, he pulled a sheet of paper from his jacket pocket. The figure "47%" appeared above his photo. "This is the latest Rasmussen poll. I can win with that." The message was clear: That level of support, if he held key states, was all he needed to secure a second term. What other voters thought of him, he seemed to say, would not matter.
Second, his list of grievances appeared limitless. Atop them all was the press, and atop the press was the Post. During dinner, he derided what he had been hearing about our story on the special counsel and his son-in-law, suggesting incorrectly that it alleged money laundering. "He's a good kid," he said of Kushner, who at the time was 36 and a father of three, and sitting right there at the table. The Post was awful, Trump said repeatedly. We treated him unfairly. With every such utterance, he poked me in the shoulder with his left elbow.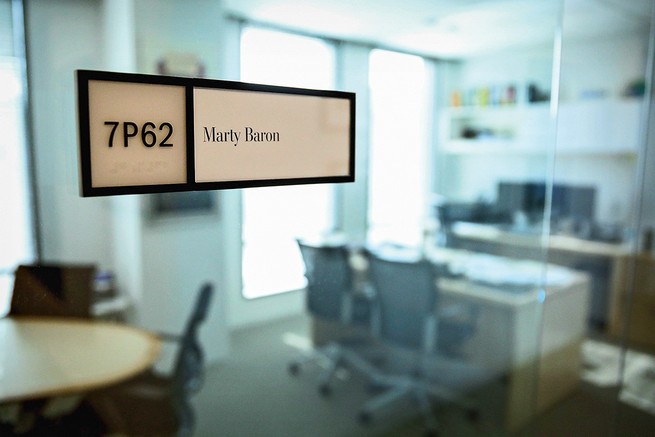 A few times during that dinner, Trump—for all the shots he had taken during the campaign at Bezos's company—mentioned that Melania was a big Amazon shopper, prompting Bezos to joke at one point, "Consider me your personal customer-service rep." Trump's concern, of course, wasn't Amazon's delivery. He wanted Bezos to deliver him from the Post's coverage.
The effort quickened the next day. Kushner called Fred Ryan in the morning to get his read on how the dinner had gone. After Ryan offered thanks for their generosity and graciousness with their time, Kushner inquired whether the Post's coverage would now improve as a result. Ryan diplomatically rebuffed him with a reminder that there were to be no expectations about coverage. "It's not a dial we have to turn one way to make it better and another way to make it worse," he said.
Trump would be the one to call Bezos's cellphone that same morning at eight, urging him to get the Post to be "more fair to me." He said, "I don't know if you get involved in the newsroom, but I'm sure you do to some degree." Bezos replied that he didn't and then delivered a line he'd been prepared to say at the dinner itself if Trump had leaned on him then: "It's really not appropriate to … I'd feel really bad about it my whole life if I did." The call ended without bullying about Amazon but with an invitation for Bezos to seek a favor. "If there's anything I can do for you," Trump said.
Three days later, the bullying began. Leaders of the technology sector gathered at the White House for a meeting of the American Technology Council, which had been created by executive order a month earlier. Trump briefly pulled Bezos aside to complain bitterly about the Post's coverage. The dinner, he said, was apparently a wasted two and a half hours.
Then, later in the year, four days after Christmas, Trump in a tweet called for the Postal Service to charge Amazon "MUCH MORE" for package deliveries, claiming that Amazon's rates were a rip-off of American taxpayers. The following year, he attempted to intervene to obstruct Amazon in its pursuit of a $10 billion cloud-computing contract from the Defense Department. Bezos was to be punished for not reining in the Post.
Meanwhile, Trump was salivating to have an antitrust case filed against Amazon. The hedge-fund titan Leon Cooperman revealed in a CNBC interview that Trump had asked him twice at a White House dinner that summer whether Amazon was a monopoly. On July 24, 2017, Trump tweeted, "Is Fake News Washington Post being used as a lobbyist weapon against Congress to keep Politicians from looking into Amazon no-tax monopoly?"
As Trump sought to tighten the screws, Bezos made plain that the paper had no need to fear that he might capitulate. In March 2018, as we concluded one of our business meetings, Bezos offered some parting words: "You may have noticed that Trump keeps tweeting about us." The remark was met with silence. "Or maybe you haven't noticed!" Bezos joked. He wanted to reinforce a statement I had publicly made before. "We are not at war with them," Bezos said. "They may be at war with us. We just need to do the work." In July of that year, he once again spoke up unprompted at a business meeting. "Do not worry about me," he said. "Just do the work. And I've got your back."
A huge advantage of Bezos's ownership was that he had his eye on a long time horizon. In Texas, he was building a "10,000-year clock" in a hollowed-out mountain—intended as a symbol, he explained, of long-term thinking. He often spoke of what the business or the landscape might look like in "20 years." When I first heard that timeline, I was startled. News executives I'd dealt with routinely spoke, at best, of next year—and, at worst, next quarter. Even so, Bezos also made decisions at a speed that was unprecedented in my experience. He personally owned 100 percent of the company. He didn't need to consult anyone. Whatever he spent came directly out of his bank account.
In my interactions with him, Bezos showed integrity and spine. Early in his ownership, he displayed an intuitive appreciation that an ethical compass for the Post was inseparable from its business success. There was much about Bezos and Amazon that the Post needed to vigorously cover and investigate—such as his company's escalating market power, its heavy-handed labor practices, and the ramifications for individual privacy of its voracious data collection. There was also the announcement that Bezos and MacKenzie Scott were seeking a divorce—followed immediately by an explosive report in the National Enquirer disclosing that Bezos had been involved in a long-running extramarital relationship with Lauren Sánchez, a former TV reporter and news anchor. We were determined to fulfill our journalistic obligations with complete independence, and did so without restriction.
I came to like the Post's owner as a human being and found him to be a far more complex, thoughtful, and agreeable character than routinely portrayed. He can be startlingly easy to talk to: Just block out any thought of his net worth. Our meetings took place typically every two weeks by teleconference, and only rarely in person. During the pandemic, we were subjected to Amazon's exasperatingly inferior videoconferencing system, called Chime. The one-hour meetings were a lesson in his unconventional thinking, wry humor ("This is me enthusiastic. Sometimes it's hard to tell"), and fantastic aphorisms: "Most people start building before they know what they're building"; "The things that everybody knows are going to work, everybody is already doing." At one session, we were discussing group subscriptions for college students. Bezos wanted to know the size of the market. As we all started to Google, Bezos interjected, "Hey, why don't we try this? Alexa, how many college students are there in the United States?" (Alexa pulled up the data from the National Center for Education Statistics.)
In conversation, Bezos could be witty and self-deprecating ("Nothing makes me feel dumber than a New Yorker cartoon"), laughed easily, and posed penetrating questions. When a Post staffer asked him whether he'd join the crew of his space company, Blue Origin, on one of its early launches, he said he wasn't sure. "Why don't you wait a while and see how things go?" I advised. "That," he said, "is the nicest thing you've ever said about me."
Science fiction—particularly Isaac Asimov, Robert Heinlein, Larry Niven—had a huge influence on Bezos in his teenage years. He has spoken of how his interest in space goes back to his childhood love of the Star Trek TV series. Star Trek inspired both the voice-activated Alexa and the name of his holding company, Zefram, drawn from the fictional character Zefram Cochrane, who developed "warp drive," a technology that allowed space travel at faster-than-light speeds. "The reason he's earning so much money," his high-school girlfriend, Ursula Werner, said early in Amazon's history, "is to get to outer space."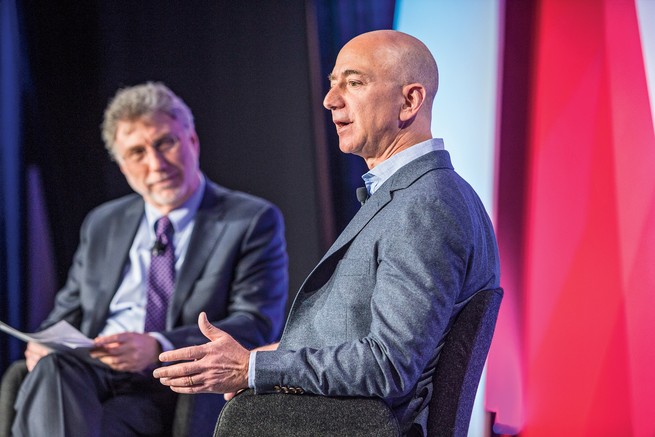 From the moment Bezos acquired the Post, he made clear that its historic journalistic mission was at the core of its business. I had been in journalism long enough to witness some executives—unmoored by crushing pressures on circulation, advertising, and profits—abandon the foundational journalistic culture, even shunning the vocabulary we use to describe our work. Many publishers took to calling journalism "content," a term so hollow that I sarcastically advised substituting "stuff." Journalists were recategorized as "content producers," top editors retitled "chief content officers." Bezos was a different breed.
He seemed to value and enjoy encounters with the news staff in small groups, even if they were infrequent. Once, at a dinner with some of the Post's Pulitzer Prize winners, Bezos asked Carol Leonnig, who had won for exposing security lapses by the Secret Service, how she was able to get people to talk to her when the risks for them were so high. It had to be a subject of understandable curiosity for the head of Amazon, a company that routinely rebuffed reporters' inquiries with "No comment." Carol told him she was straightforward about what she sought and directly addressed individuals' fears and motivations. The Post's reputation for serious, careful investigative reporting, she told Bezos, carried a lot of weight with potential sources. They wanted injustice or malfeasance revealed, and we needed their help. The Post would protect their identity.
Anonymous leaking out of the government didn't begin with the Trump administration. It has a long tradition in Washington. Leaks are often the only way for journalists to learn and report what is happening behind the scenes. If sources come forward publicly, they risk being fired, demoted, sidelined, or even prosecuted. The risks were heightened with a vengeful Trump targeting the so-called deep state, what he imagined to be influential government officials conspiring against him. The Department of Justice had announced early in his term that it would become even more aggressive in its search for leakers of classified national-security information. And Trump's allies and supporters could be counted on to make life a nightmare for anyone who crossed him.
Journalists would much prefer to have government sources on the record, but anonymity has become an inextricable feature of Washington reporting. Though Trump-administration officials claimed to be unjust victims of anonymous sourcing, they were skillful practitioners and beneficiaries as well. The Trump administration was the leakiest in memory. Senior officials leaked regularly, typically as a result of internal rivalries. Trump himself leaked to get news out in a way that he viewed as helpful, just as he had done as a private citizen in New York.
Trump had assembled his government haphazardly, enlisting many individuals who had no relevant experience and no history of previously collaborating with one another—"kind of a crowd of misfit toys," as Josh Dawsey, a White House reporter for the Post, put it to me. Some were mere opportunists. Many officials, as the Post's Ashley Parker has observed, came to believe that working in the administration was like being a character in Game of Thrones : Better to knife others before you got knifed yourself. Odds were high that Trump would do the stabbing someday on his own. But many in government leaked out of principle. They were astonished to see the norms of governance and democracy being violated—and by the pervasive lying.
Trump's gripes about anonymity weren't based on the rigor of the reporting—or even, for that matter, its veracity. Leaks that reflected poorly on him were condemned as false, and the sources therefore nonexistent, even as he pressed for investigations to identify the supposedly nonexistent sources. With his followers' distrust of the media, he had little trouble convincing them that the stories were fabrications by media out to get him—and them. Conflating his political self-interest with the public interest, he was prone to labeling the leaks as treasonous.
At the Post, the aim was to get at the facts, no matter the obstacles Trump and his allies put in our way. In January 2018, Dawsey reported that Trump, during a discussion with lawmakers about protecting immigrants from Haiti, El Salvador, and African countries as part of an immigration deal, asked: "Why are we having all these people from shithole countries come here?" In March, Dawsey, Leonnig, and David Nakamura reported that Trump had defied cautions from his national security advisers not to offer well-wishes to Russian President Vladimir Putin on winning reelection to another six-year term. "DO NOT CONGRATULATE," warned briefing material that Trump may or may not have read. Such advice should have been unnecessary in the first place. After all, it had been anything but a fair election. Prominent opponents were excluded from the ballot, and much of the Russian news media are controlled by the state. "If this story is accurate, that means someone leaked the president's briefing papers," said a senior White House official who, as was common in an administration that condemned anonymous sources, insisted on anonymity.
To be sure, sources sometimes want anonymity for ignoble reasons. But providing anonymity is essential to legitimate news-gathering in the public interest. If any doubt remains as to why so many government officials require anonymity to come forward—and why responsible news outlets give them anonymity when necessary—the story of Trump's famous phone call with Ukrainian President Volodymyr Zelensky offers an instructive case study.
In September 2019, congressional committees received a letter from Michael Atkinson, the inspector general for the intelligence community. A whistleblower had filed a complaint with him, he wrote, and in Atkinson's assessment, it qualified as credible and a matter of "urgent concern"—defined as a "serious or flagrant problem, abuse or violation of the law or Executive Order" that involves classified information but "does not include differences of opinion concerning public policy matters."
Soon, a trio of Post national-security reporters published a story that began to flesh out the contents of the whistleblower complaint. The article, written by Ellen Nakashima, Greg Miller, and Shane Harris, cited anonymous sources in reporting that the complaint involved "President Trump's communications with a foreign leader." The incident was said to revolve around a phone call.
Step by careful step, news organizations excavated the basic facts: In a phone call with Zelensky, Trump had effectively agreed to provide $250 million in military aid to Ukraine—approved by Congress, but inexplicably put on hold by the administration—only if Zelensky launched an investigation into his likely Democratic foe in the 2020 election, Joe Biden, and his alleged activities in Ukraine. This attempted extortion would lead directly to Trump's impeachment, making him only the third president in American history to be formally accused by the House of Representatives of high crimes and misdemeanors.
The entire universe of Trump allies endeavored to have the whistleblower's identity revealed—widely circulating a name—with the spiteful aim of subjecting that individual to fierce harassment and intimidation, or worse. Others who ultimately went public with their concerns, as they responded to congressional subpoenas and provided sworn testimony, became targets of relentless attacks and mockery.
Lieutenant Colonel Alexander Vindman of the National Security Council, who had listened in on the phone call as part of his job, became a central witness, implicating Trump during the impeachment hearings. He was fired after having endured condemnation from the White House and deceitful insinuations by Trump allies that he might be a double agent. Vindman's twin brother, Yevgeny, an NSC staffer who had raised protests internally about Trump's phone call with Zelensky, was fired too. Gordon Sondland—the hotelier and Trump donor who was the ambassador to the European Union and an emissary of sorts to Ukraine as well—was also fired. He had admitted in congressional testimony that there had been an explicit quid pro quo conditioning a Zelensky visit to the White House on a Ukrainian investigation of Biden. The Vindmans and Sondland were all dismissed within two days of Trump's acquittal in his first impeachment trial. Just before their ousters, White House Press Secretary Stephanie Grisham had suggested on Fox News that "people should pay" for what Trump went through.
The acting Pentagon comptroller, Elaine McCusker, had her promotion rescinded, evidently for having merely questioned whether Ukraine aid could be legally withheld. She later resigned. Atkinson, the intelligence community's inspector general, was fired as well, leaving with a plea for whistleblowers to "use authorized channels to bravely speak up—there is no disgrace for doing so."
"The Washington Post is constantly quoting 'anonymous sources' that do not exist," Trump had tweeted in 2018 in one of his familiar lines of attack. "Rarely do they use the name of anyone because there is no one to give them the kind of negative quote that they are looking for." The Ukraine episode made it clear that real people with incriminating information existed in substantial numbers. If they went public, they risked unemployment. If they chose anonymity, as the whistleblower did, Trump and his allies would aim to expose them and have them publicly and savagely denounced.
"We are not at war with the administration. We are at work." When I made that comment, many fellow journalists enthusiastically embraced the idea that we should not think of ourselves as warriors but instead as professionals merely doing our job to keep the public informed. Others came to view that posture as naive: When truth and democracy are under attack, the only proper response is to be more fiercely and unashamedly bellicose ourselves. One outside critic went so far as to label my statement an "atrocity" when, after my retirement, Fred Ryan, the Post's publisher, had my quote mounted on the wall overlooking the paper's national desk.
I believe that responsible journalists should be guided by fundamental principles. Among them: We must support and defend democracy. Citizens have a right to self-governance. Without democracy, there can be no independent press, and without an independent press, there can be no democracy. We must work hard and honestly to discover the truth, and we should tell the public unflinchingly what we learn. We should support the right of all citizens to participate in the electoral process without impediment. We should endorse free speech and understand that vigorous debate over policy is essential to democracy. We should favor equitable treatment for everyone, under the law and out of moral obligation, and abundant opportunity for all to attain what they hope for themselves and their families. We owe special attention to the least fortunate in our society, and have a duty to give voice to those who otherwise would not be heard. We must oppose intolerance and hate, and stand against violence, repression, and abuse of power.
I also believe journalists can best honor those ideals by adhering to traditional professional principles. The press will do itself and our democracy no favors if it abandons what have long been bedrock standards. Too many norms of civic discourse have been trampled. For the press to hold power to account today, we will have to maintain standards that demonstrate that we are practicing our craft honorably, thoroughly, and fairly, with an open mind and with a reverence for evidence over our own opinions. In short, we should practice objective journalism.
The idea of objective journalism has uncertain origins. But it can be traced to the early 20th century, in the aftermath of World War I, when democracy seemed imperiled and propaganda had been developed into a polished instrument for manipulating public opinion and the press during warfare—and, in the United States, for deepening suspicions about marginalized people who were then widely regarded as not fully American.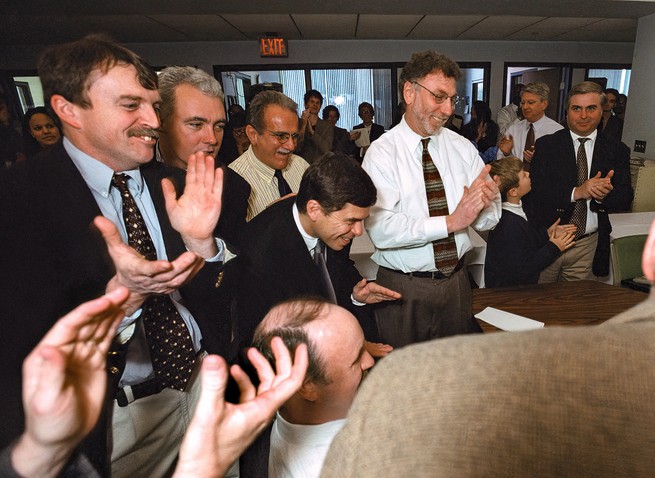 The renowned journalist and thinker Walter Lippmann helped give currency to the term when he wrote Liberty and the News, published in 1920. In that slim volume, he described a time that sounds remarkably similar to today. "There is everywhere an increasingly angry disillusionment about the press, a growing sense of being baffled and misled," he wrote. The onslaught of news was "helter-skelter, in inconceivable confusion." The public suffered from "no rules of evidence." He worried over democratic institutions being pushed off their foundations by the media environment.
Lippmann made no assumption that journalists could be freed of their own opinions. He assumed, in fact, just the opposite: They were as subject to biases as anyone else. He proposed an "objective" method for moving beyond them: Journalists should pursue "as impartial an investigation of the facts as is humanly possible." That idea of objectivity doesn't preclude the lie-detector role for the press; it argues for it. It is not an idea that fosters prejudice; it labors against it. "I am convinced," he wrote, in a line that mirrors my own thinking, "that we shall accomplish more by fighting for truth than by fighting for our theories."
In championing "objectivity" in our work, I am swimming against what has become, lamentably, a mighty tide in my profession of nearly half a century. No word seems more unpopular today among many mainstream journalists. A report in January 2023 by a previous executive editor at The Washington Post, Leonard Downie Jr., and a former CBS News president, Andrew Heyward, argued that objectivity in journalism is outmoded. They quoted a former close colleague of mine: "Objectivity has got to go."
Objectivity, in my view, has got to stay. Maintaining that standard does not guarantee the public's confidence. But it increases the odds that journalists will earn it. The principle of objectivity has been under siege for years, but perhaps never more ferociously than during Trump's presidency and its aftermath. Several arguments are leveled against it by my fellow journalists: None of us can honestly claim to be objective, and we shouldn't profess to be. We all have our opinions. Objectivity also is seen as just another word for neutrality, balance, and so-called both-sidesism. It pretends, according to this view, that all assertions deserve equal weight, even when the evidence shows they don't, and so it fails to deliver the plain truth to the public. Finally, critics argue that objectivity historically excluded the perspectives of those who have long been among the most marginalized in society (and media): women, Black Americans, Latinos, Asian Americans, Indigenous Americans, the LGBTQ community, and others.
Genuine objectivity, however, does not mean any of that. This is what it really means: As journalists, we can never stop obsessing over how to get at the truth—or, to use a less lofty term, "objective reality." Doing that requires an open mind and a rigorous method. We must be more impressed by what we don't know than by what we know, or think we know.
Journalists routinely expect objectivity from others. Like everyone else, we want objective judges. We want objective juries. We want police officers to be objective when they make arrests and detectives to be objective in assessing evidence. We want prosecutors to evaluate cases objectively, with no prejudice or preexisting agendas. Without objectivity, there can be no equity in law enforcement, as abhorrent abuses have demonstrated all too often. We want doctors to be objective in diagnosing the medical conditions of their patients, uncontaminated by bigotry or baseless hunches. We want medical researchers and regulators to be objective in determining whether new drugs might work and can be safely consumed. We want scientists to be objective in evaluating the impact of chemicals in the soil, air, and water.
Objectivity in all these fields, and others, gets no argument from journalists. We accept it, even insist on it by seeking to expose transgressions. Journalists should insist on it for ourselves as well.
---
This article was adapted from Martin Baron's book, Collision of Power: Trump, Bezos, and The Washington Post, which will be published in October 2023. It appears in the November 2023 print edition with the headline "We Are Not at War. We Are at Work."

Collision of Power: Trump, Bezos, and The Washington Post
By Martin Baron
---
​When you buy a book using a link on this page, we receive a commission. Thank you for supporting The Atlantic.