Autocar's EV league table reveals the slowest- and quickest-charging electric cars in the real world
With the adoption of electric cars only accelerating as manufacturers put more and more money behind them, and customers moving in greater and greater numbers to trade in their combustion-engined cars in favour of them, one main barrier to ownership looms in the minds of those unsure whether an EV will meet their needs: the charging question.
How and where will I charge? How long will it take? And is the infrastructure in place?
For most owners who've already adopted, and many of those still to, home charging is and will remain key to making an EV practical. But for plenty of others, home charging will never be possible, and urban charging infrastructure on residential streets is proving slow to appear. 
Public DC rapid charging, then, will remain critically important for a great many, and for a considerable time. But even now, there are big differences in the rate at which one electric car may be capable of charging, out in the real world and away from the spec sheet, compared with another. So how fast can new EVs charge right now, assuming you find the right charger? And which are the quickest?
Top 10 fastest-charging electric cars on sale 2023
Since the autumn of 2022, Autocar has been benchmark testing the rapid-charge performance of all electric cars that undergo our full road test, and below you can see the results. They reveal several important facts: that true charging speed can be a far cry from any car's claimed peak rate, when you calculate an average across the full breadth of available battery capacity. Also, that the rate of rapid charge of all EVs should be expected to slow down considerably as their batteries fill up. Some cars, however, slow considerably more than others.
How we test electric car charging speeds
Our approach to our rapid charge test is simply to use a rapid charger of sufficient capacity to meet the test car's peak charging rate; and to observe and record how much power is actually drawn by the car as it passes a 10%, 30%, 50%, 70% and 90% state of charge (SOC). 
Practicability dictates that we cannot use the same DC charger for every test and, while we pre-condition the car's battery before charging where possible, many EVs don't allow this once battery condition has dropped below 10%.
We then average our test results with a weighting that reflects the need that rapid charging typically meets for EV drivers. Public rapid charging is relatively expensive compared with home charging. Most use it to extend the range of their cars for a particular journey, rather than as a regular habit, and as a result few rapid charge from less than 20% charge, or to beyond 80% (because doing that isn't time-efficient or beneficial to battery longevity).
For that reason, the rapid charge rate demonstrated by a new car as it passes 50% SOC contributes three times as much towards our aggregated charge rate result as the equivalent rate indicated at either 10% or 90%; and likewise, the rates recorded at 70% and 30% are doubly important as those at the extremes of the battery condition spectrum. 
So, would you expect one of the best-value electric cars in Britain to appear within the top 10 of this list? Would you expect to see a top three without a Tesla in it? Here are the quickest- and slowest-charging electric cars that Autocar has yet road tested.
1. Porsche Taycan GTS Sport Turismo (2023)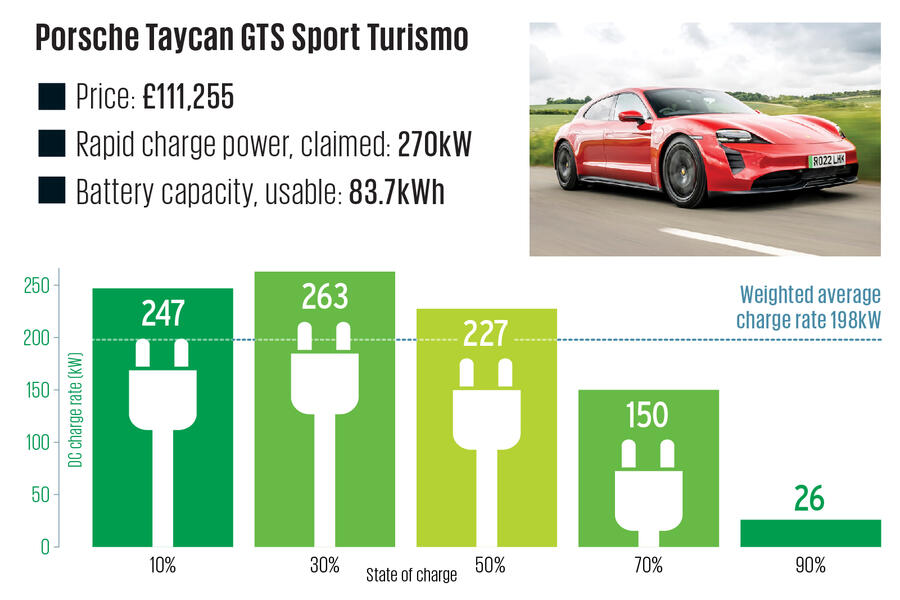 Claimed peak rate: 270kW
Peak rate on test: 263kW
Weighted average test charge rate: 198kW
Usable battery capacity: 83.7kWh
Indicative charging wait, 10%-90% SOC: 22.2min
Test charger: Ads-tec/Porsche Engineering HBD 1120, operated by Porsche
Test charge conditions: dry, 22deg C
2. Audi E-tron GT Vorsprung (2023)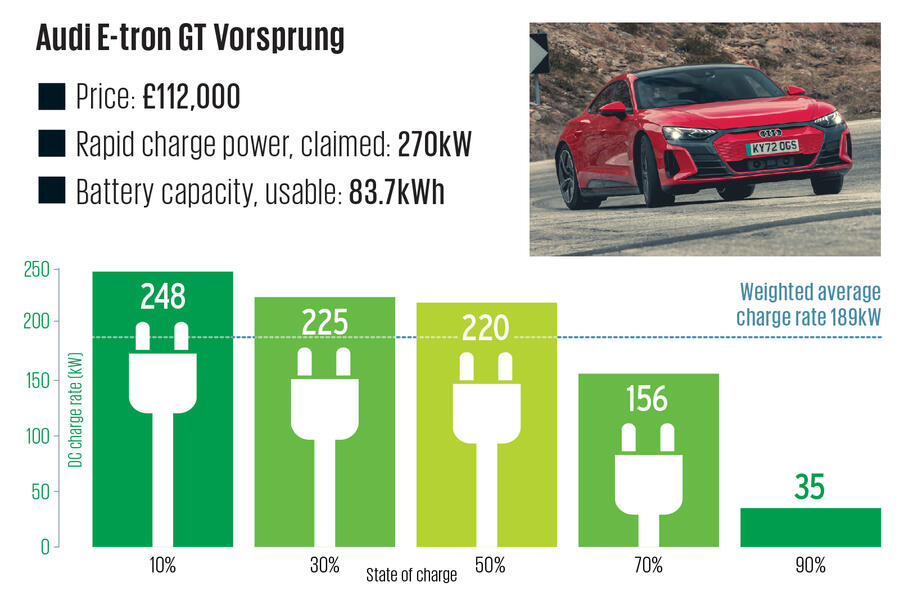 Claimed peak rate: 270kW
Peak rate on test: 248kW
Weighted average test charge rate: 189kW
Usable battery capacity: 83.7kWh
Indicative charging wait, 10%-90% SOC: 22.8min
Test charger: Tritium TRI 121-350, operated by Gridserve
Test charge conditions: dry, 7deg C
3. Hyundai Ioniq 6 RWD Ultimate (2023)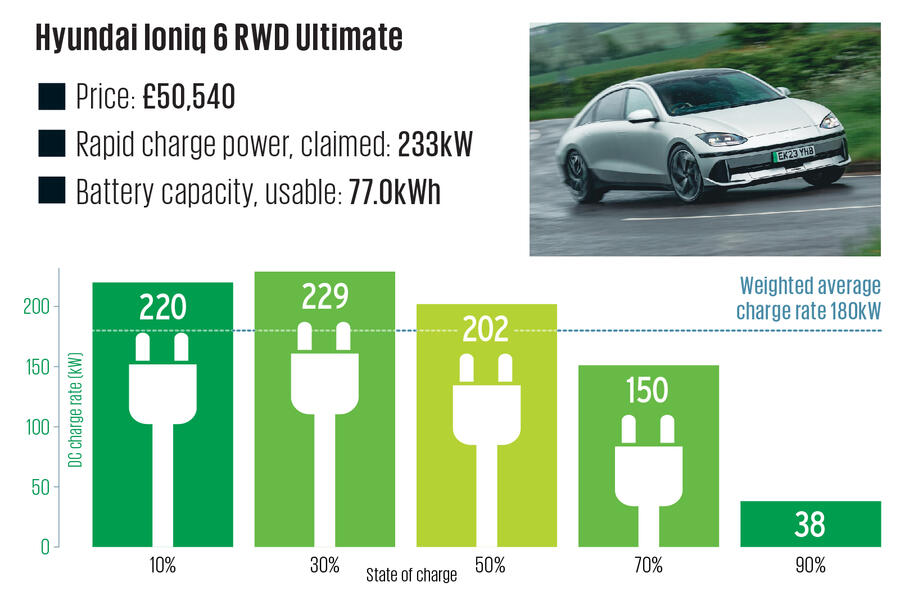 Claimed peak rate: 233kW
Peak rate on test: 229kW
Weighted average test charge rate: 180kW
Usable battery capacity: 77.0kWh
Indicative charging wait, 10%-90% SOC: 22.2min
Test charger: Tritium TRI 121-350, operated by Gridserve
Test charge conditions: dry, 13deg C
4. Kia EV6 GT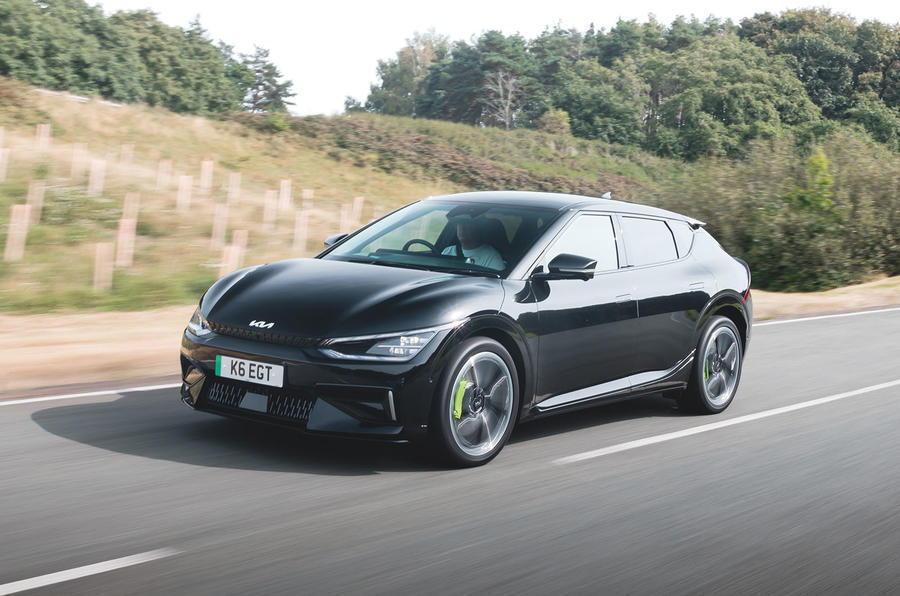 Price: £62,645
Rapid charge power, claimed: 233kW
Usable battery capacity: 77.4kWh
5. BMW i7 xDrive60 M Sport (2023)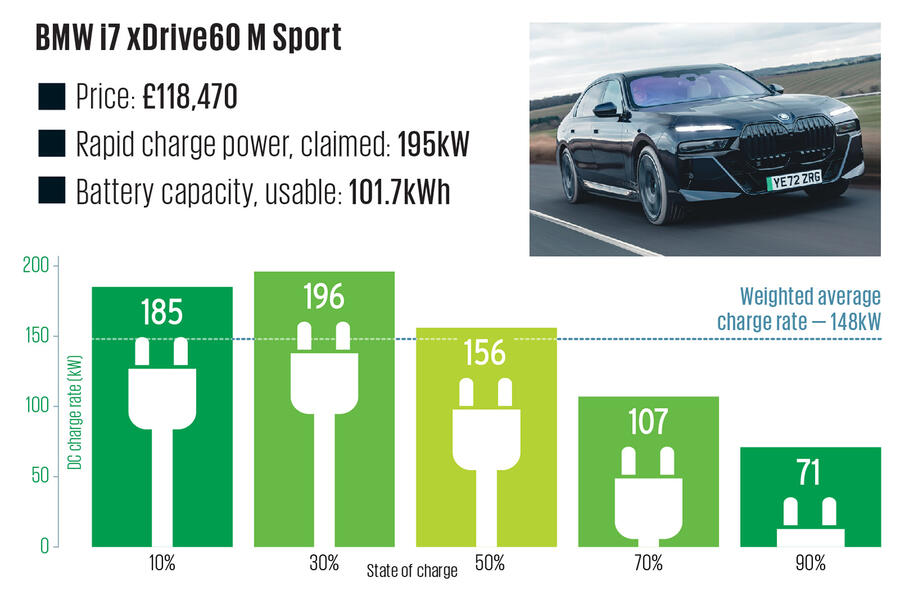 Claimed peak rate: 195kW
Peak rate on test: 196kW
Weighted average test charge rate: 148kW
Usable battery capacity: 101.7kWh
Indicative charging wait, 10%-90% SOC: 34.1min
Test charger: Tritium TRI 121-350, operated by Gridserve
Test charge conditions: dry, 8deg C
6. Mercedes EQE 350+ AMG Line Premium (2022)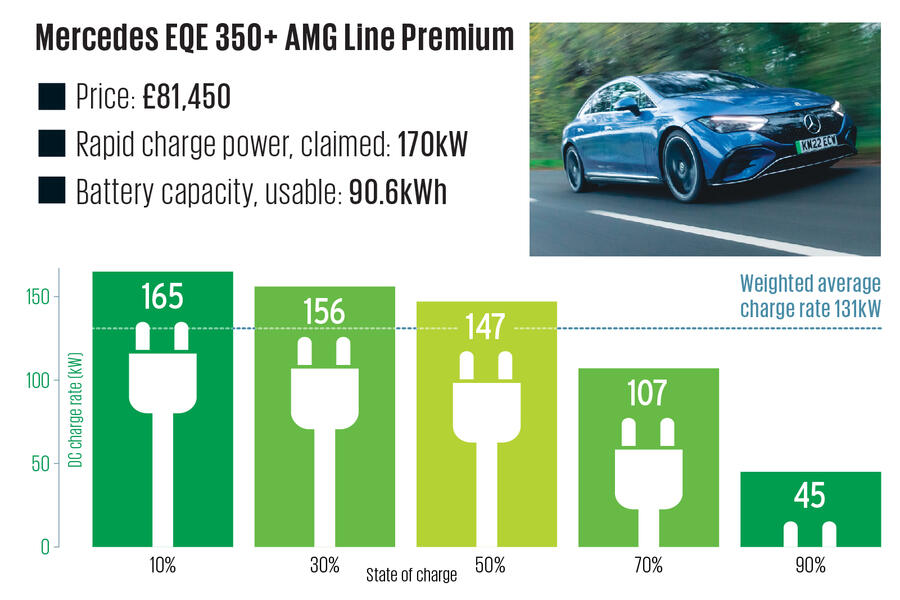 Claimed peak rate: 170kW
Peak rate on test: 165kW
Weighted average test charge rate: 131kW
Usable battery capacity: 90.6kWh
Indicative charging wait, 10%-90% SOC: 35.1min
Test charger: Tritium TRI 121-350, operated by Gridserve
Test charge conditions: dry, 13deg C
7. Volkswagen ID Buzz SWB Style Pro (2023)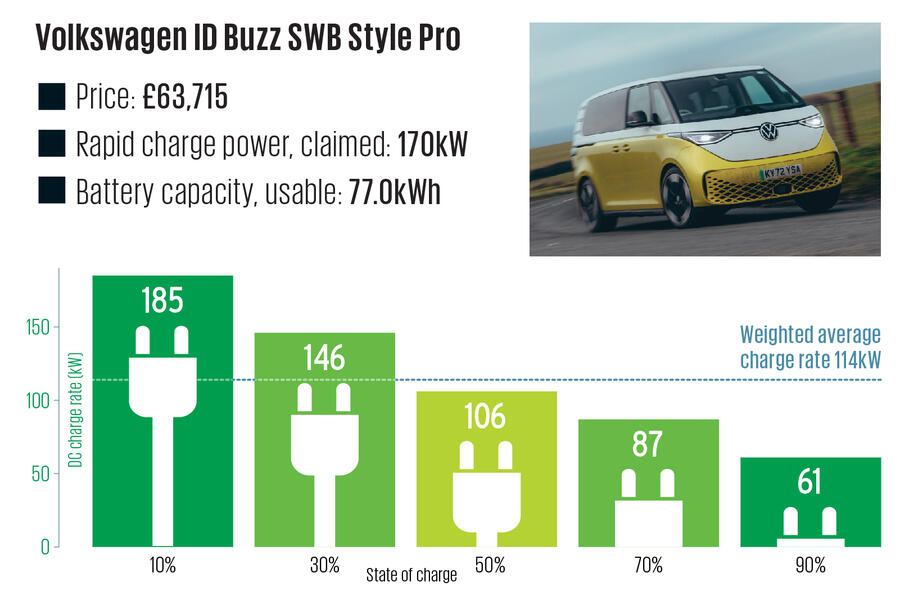 Claimed peak rate: 170kW
Peak rate on test: 185kW
Weighted average test charge rate: 114kW
Usable battery capacity: 77.0kWh
Indicative charging wait, 10%-90% SOC: 31.6min
Test charger: Tritium TRI 121-350, operated by Gridserve
Test charge conditions: dry, 9deg C
8. Polestar 2 (2024)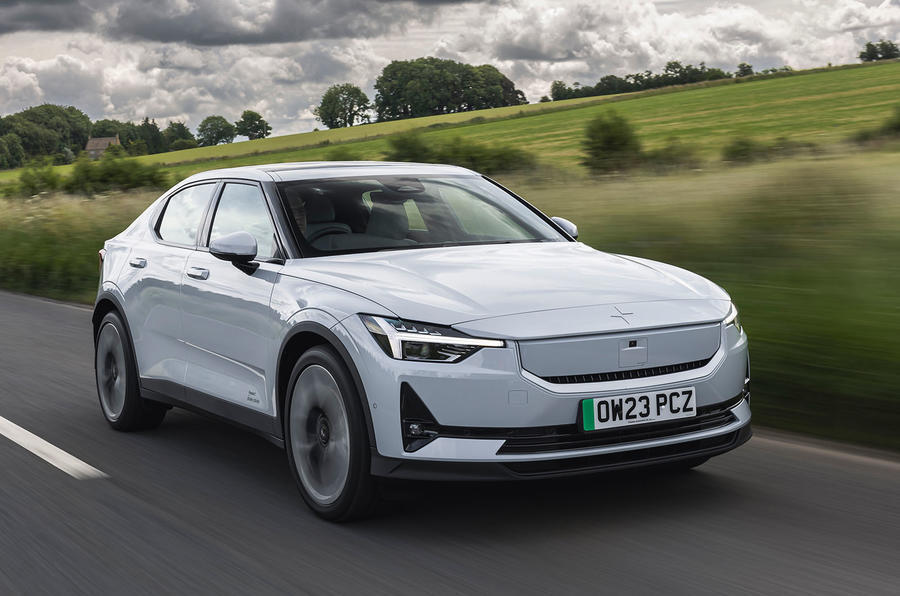 Price: £48,950
Rapid charge power, claimed: 205kW
Battery capacity, usable: 79.0kWh
9. Volvo C40 Recharge Plus, Single Motor (2023)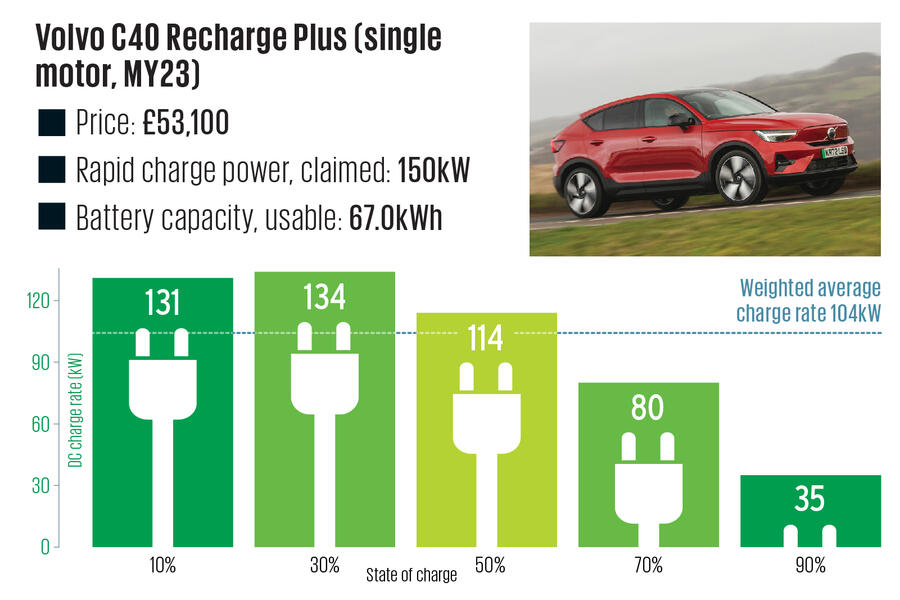 Claimed peak rate: 150kW
Peak rate on test: 134kW
Weighted average test charge rate: 104kW
Usable battery capacity: 67.0kWh
Indicative charging wait, 10%-90% SOC: 32.6min
Test charger: Tritium TRI 121-350, operated by Gridserve
Test charge conditions: dry, 14deg C
10. Polestar 2 BST Edition 270 (2023)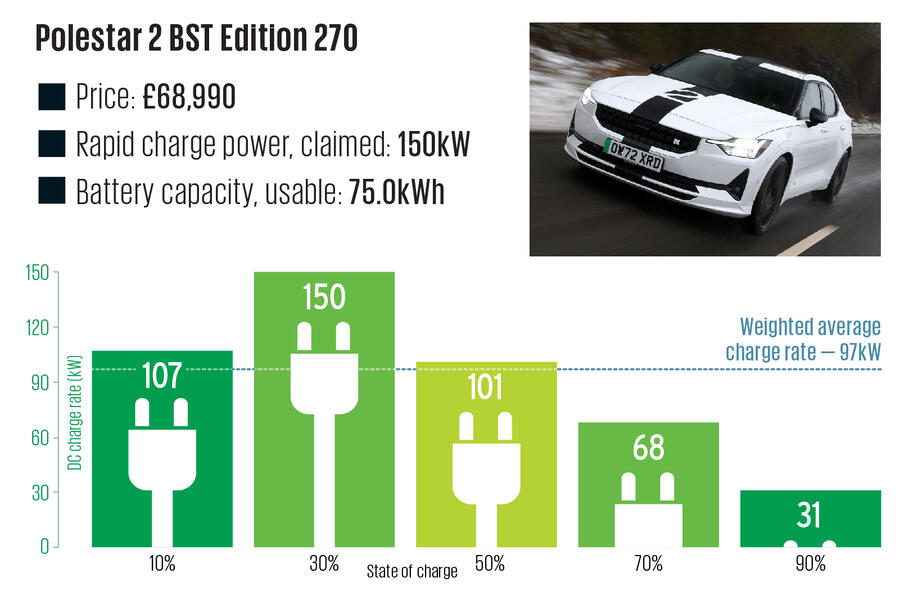 Claimed peak rate: 150kW
Peak rate on test: 150kW
Weighted average test charge rate: 97kW
Usable battery capacity: 75.0kWh
Indicative charging wait, 10%-90% SOC: 39.4min
Test charger: Alpitronic HYC 150, operated by Instavolt
Test charge conditions: light rain, 12deg C
11. BMW iX1 30 xLine (2023)
Claimed peak rate: 130kW
Peak rate on test: 125kW
Weighted average test charge rate: 96kW
Usable battery capacity: 64.7kWh
Indicative charging wait, 10%-90% SOC: 33.6min
Test charger: Hypercharger HYC_150, operated by MFG EV Power
Test charge conditions: dry, 7deg C
12. Toyota BZ4X AWD Motion (2022)
Claimed peak rate: 150kW
Peak rate on test: 147kW
Weighted average test charge rate: 89kW
Usable battery capacity: 64.0kWh
Indicative charging wait, 10%-90% SOC: 36.5min
Test charger: ABB HP CP500C, operated by Ionity
Test charge conditions: not recorded
13. Tesla Model Y RWD (2023)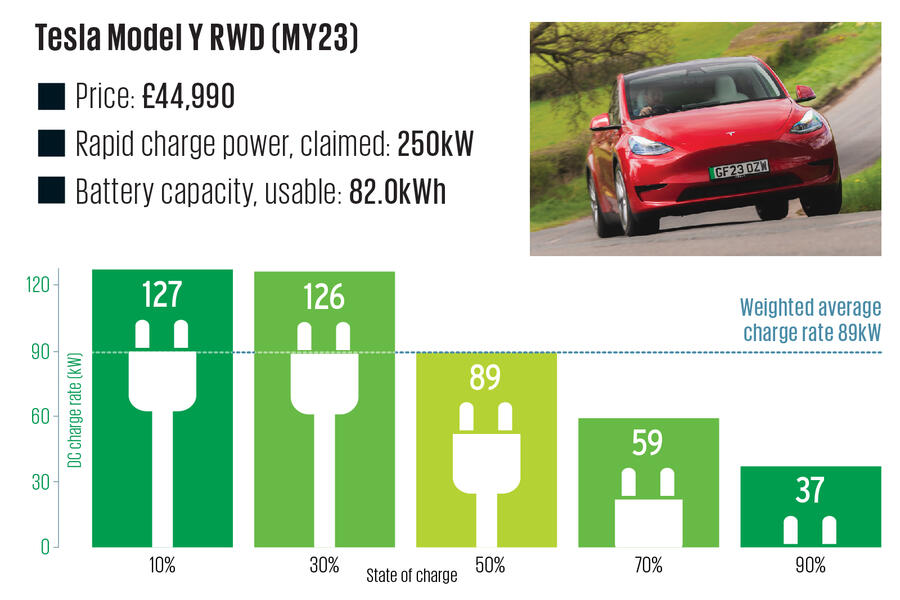 Claimed peak rate: 170kW
Peak rate on test: 127kW
Weighted average test charge rate: 89kW
Usable battery capacity: 82.0kWh (est)
Indicative charging wait, 10%-90% SOC: 48.2min
Test charger: V2 Supercharger, operated by Tesla
Test charge conditions: dry, 16deg C
14. Lexus RZ 450e (2023)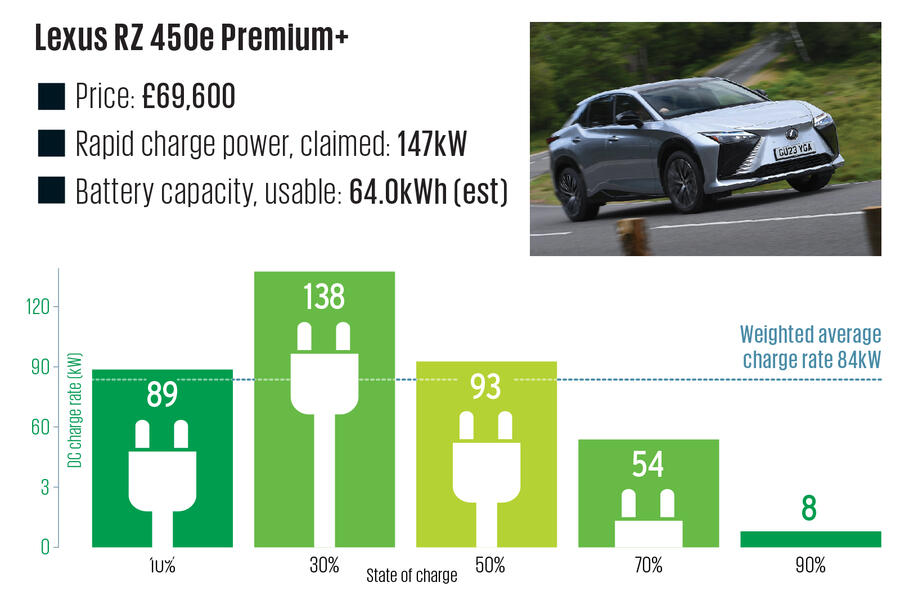 Claimed peak rate: 150kW
Peak rate on test: 138kW
Weighted average test charge rate: 84kW
Usable battery capacity: 64.0kWh (est)
Indicative charging wait, 10%-90% SOC: 40.2min
Test charger: ABB HP CP500C, operated by Ionity
Test charge conditions: dry, 12deg C
15. Subaru Solterra AWD Touring (2023)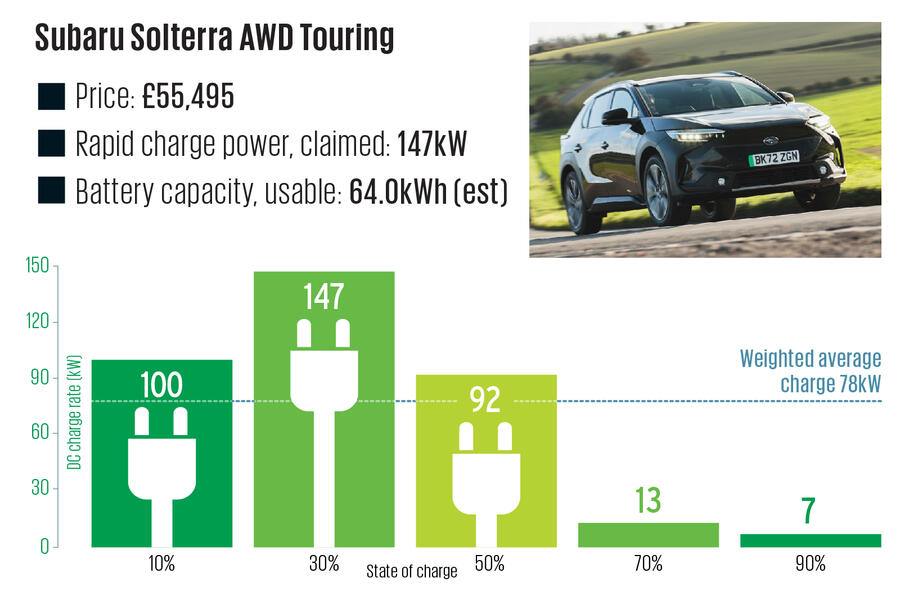 Claimed peak rate: 150kW
Peak rate on test: 147kW
Weighted average test charge rate: 78kW
Usable battery capacity: 64.0kWh
Indicative charging wait, 10%-90% SOC: 42.8min
Test charger: Tritium TRI 121-350, operated by Gridserve
Test charge conditions: dry, 6deg C
16. BYD Atto 3 (2023)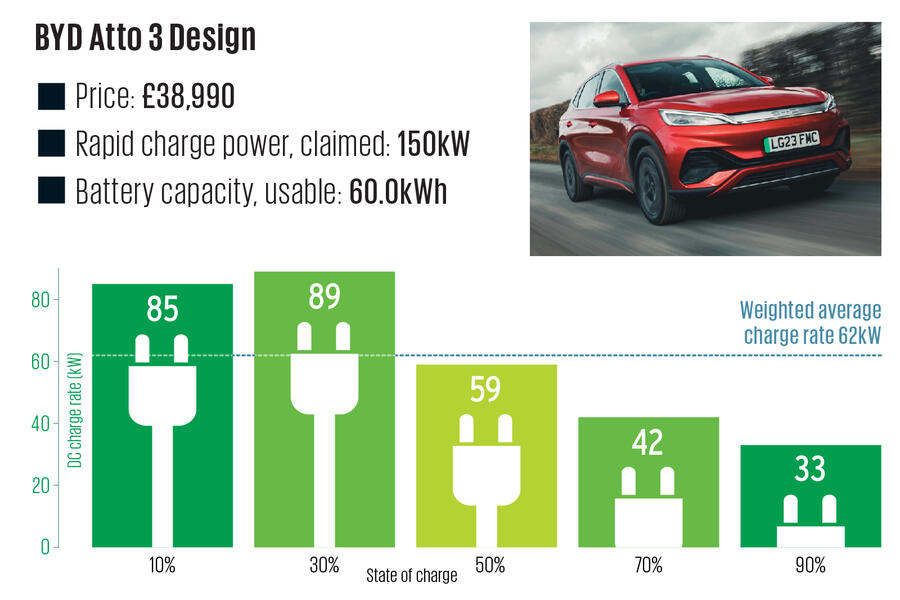 Claimed peak rate: 80kW
Peak rate on test: 89kW
Weighted average test charge rate: 62kW
Usable battery capacity: 60.0kWh (est)
Indicative charging wait, 10%-90% SOC: 46.8min
Test charger: ABB HP CP500 CJ, operated by Gridserve
Test charge conditions: dry, 12deg C
17. Citroën e-C4X Shine (2023)
Claimed peak rate: 100kW
Peak rate on test: 89kW
Weighted average test charge rate: 61kW
Usable battery capacity: 46.2kWh
Indicative charging wait, 10%-90% SOC: 37.7min
Test charger: Tritium TRI121-350, operated by Gridserve
Test charge conditions: dry, 11deg C
18. Renault Megane E-Tech EV60 Techno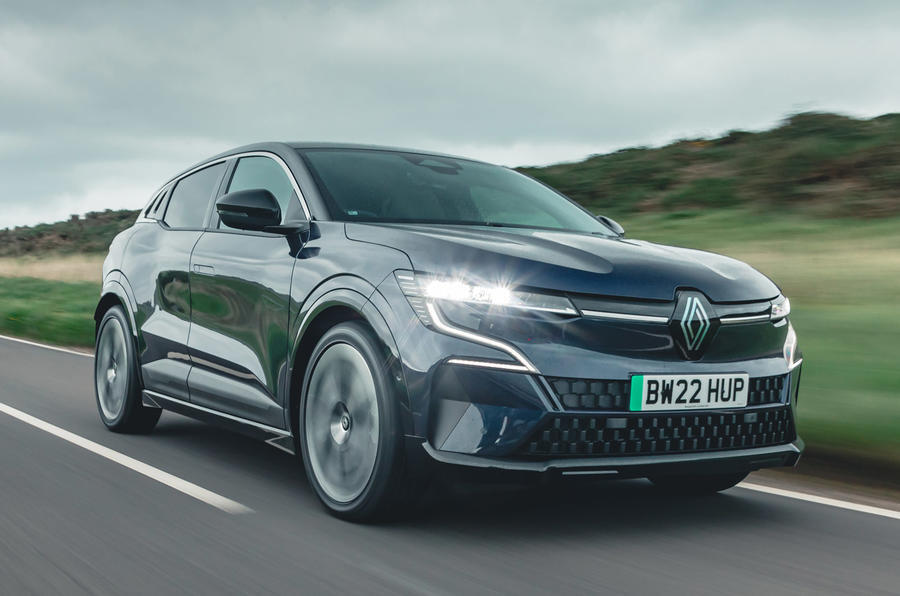 Price: £39,495
Rapid charge power, claimed: 130kW
Battery capacity, usable: 60.0kWh 
19. Kia Soul Urban (2023)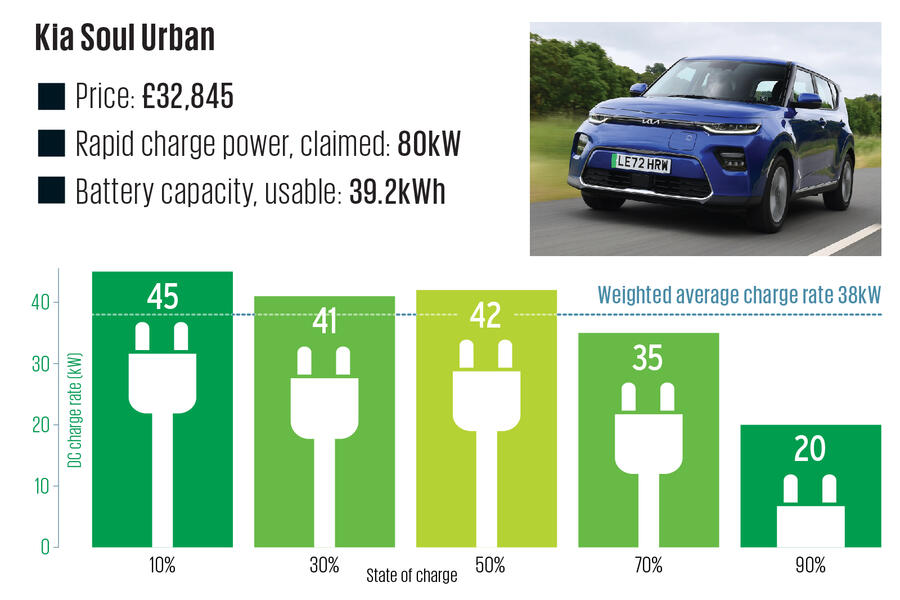 Claimed peak rate: 50kW
Peak rate on test: 45kW
Weighted average test charge rate: 38kW
Usable battery capacity: 39.2kWh
Indicative charging wait, 10%-90% SOC: 51.4min
Test charger: ABB HP CP500 CJ, operated by Gridserve
Test charge conditions: not recorded
20. Abarth 500e Tourismo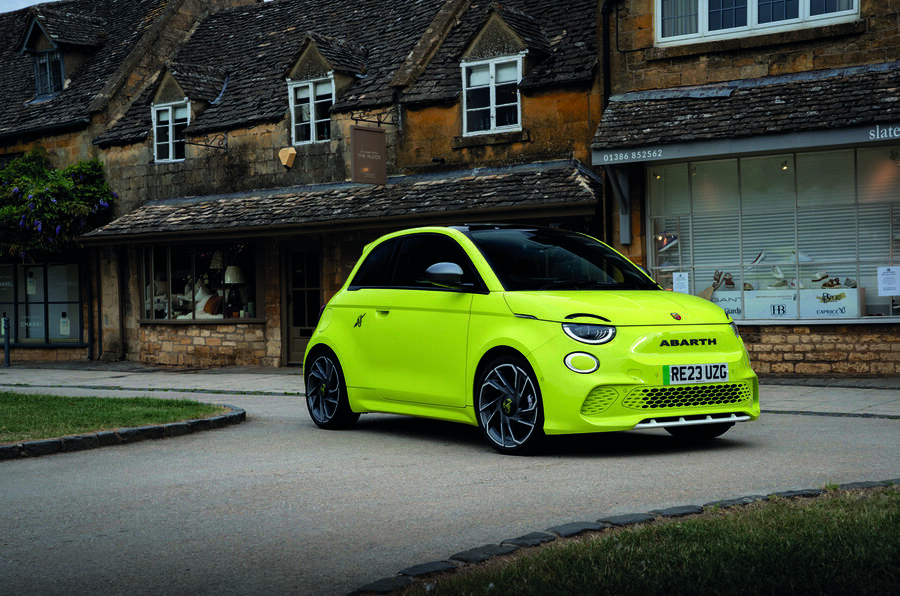 Price: £38,195
Rapid charge power, claimed: 85kW
Battery capacity, usable: 37.8kWh